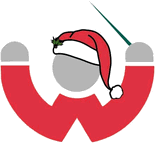 22 Merry Christmas Favorites (CD)

Year: 1987
Label: Ranwood
Catalog Number: RCD-7029
Number of Discs: 1
Editor's Rating: (Read Review)
Where to Buy
Track Listing:
This CD is Christmas (and Lawrence Welk) at its finest, with all of the recordings coming from the 4-record set issued by Reader's Digest in 1970, with the exception of "Christmas in Los Angeles". When I first got this CD, my principal regret was that it didn't include Jo Ann Castle's fabulous honky-tonk piano version of "Santa Claus is Coming to Town". Happily, that cut is included in the newly-released "Christmas Memories". Buy this CD, buy that CD, and buy "Jingle Bells", which includes some different (though perfectly legitimate) versions of familiar favorites, such as the Lennon Sisters' recording of "Merry Christmas from Our House to Your House".
Don't bother with the 10-song CD "Merry Christmas from Our House to Your House", as it doesn't contain any songs/versions that aren't already covered on the other three. Sadly, there are still some songs from the box LP set that are conspicuously absent on any CD, and we can only hope that those will be included in a future release, or that the box LP set itself will be released in its entirety on CD. Some of the missing classics: "Twas the Night Before Christmas", "Christmas Dreaming", "I Heard the Bells on Christmas Day", "High on a Housetop", "Ho Ho Ho", "Here Comes Santa Claus", and "Let's Have an Old Fashioned Christmas" among others. Still, though I don't pretend to know how Ranwood went about selecting songs for these compilations (even "Jingle Bells" doesn't quite match the 1957 LP of the same title), if you like Lawrence Welk (and even if you DON'T like his non-holiday stuff), you simply can't go wrong here. Light a fire, fix yourself a glass of eggnog, and listen to this wonderful CD as you watch the snow falling outside your window. Have a Merry Christmas!
Where to Buy
To listen to and/or buy this album or individual songs in MP3 format, please see the Amazon MP3 widget above. To buy this album in CD format, please click on the "Buy from amazon.com" button to the right.
Song Information