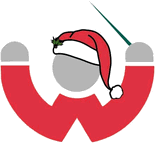 Christmas Memories (CD)

Year: 2003
Label: Ranwood
Catalog Number: 7064-2
Number of Discs: 1
Editor's Rating: (Read Review)
Where to Buy
Track Listing:
If you remember the 4-record Lawrence Welk Christmas set that Reader's Digest issued in 1970, then the release of this CD is a welcome development. While "22 Merry Christmas Favorites" is a terrific CD, I've spent years wondering how on earth they could leave off Jo Ann Castle's rip-roaring honky-tonk piano rendition of "Santa Claus is Coming to Town". This CD remedies that omission and brings you several steps closer to having all of the songs that were included in that LP set.
You should also get "Jingle Bells", which features several alternative (though perfectly legitimate Lawrence Welk) recordings, as well as a few Welk recordings that aren't readily available anywhere else on CD. Then you'll need to hope for one more release to fill in the rest of the gaps, or, ideally, a CD release of the 4-record set itself. In the meantime, this CD is a must. If it contained nothing other than "Santa Claus is Coming to Town" and 45 minutes of Lawrence Welk talking about life in North Dakota, it would be well worth the price. But this one is solid from top to bottom.
Where to Buy
To listen to and/or buy this album or individual songs in MP3 format, please see the Amazon MP3 widget above. To buy this album in CD format, please click on the "Buy from amazon.com" button to the right.
Song Information