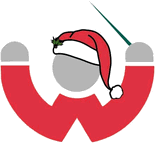 Disclaimers, Site Credits, etc.
This section is still under construction
This is strictly a fan site, developed and maintained by a Lawrence Welk fan for other Lawrence Welk fans for informational purposes. Neither this site, nor its owner, nor Harvest Moon Design, is in any way affiliated with any individual or entity mentioned or represented on these pages. This includes, but is not limited to, Lawrence Welk Resorts, The Lawrence Welk Show, The Lawrence Welk Gift Shop, Ranwood Records, Dot Records, Coral Records, MCA Special Products, Pilz, Pickwick, Reader's Digest / RCA, Mistletoe, Lawrence Welk himself, and the stars, past and present, of The Lawrence Welk Show.
The site owner does not pay for hosting of these pages.
Site Credits and Acknowledgements
The photo of Lawrence Welk on the home page is from the booklet that accompanies the 3-CD box set, "Lawrence Welk - A Musical Anthology", Ranwood Records RD3-1004. In case I need to mention Unicorn Publishing, there, I just did. For design purposes, I reversed the image.
The photo, on the home page, of Lawrence Welk with Norma Zimmer, Ralna English, and other Women of Welk came from PlanetWelk.com, another fan site. I can't speak to where they obtained the photo.